Welcome to Hooligan Designs!
Beautifully handcrafted leather tack, created by a woman as dedicated as you are to reaching your goals.
Because a woman should always have a piece of hand made tack - built with intent, by a woman who understands the struggles you've overcome to get here.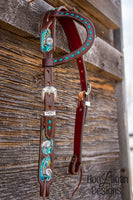 Come and see my products in person!
2022 Schedule
August 2022 - The Breeders Elite Barrel Race, Rimbey, AB

2023 Schedule
Art of the Cowgirl - Arizona